Beschreibung
Bullet Point
GoPro Lite camera is specially designed for micro whoop drone like Beta85X and Beta95X which will be a perfect tool for FPV filming. Lightweight of 29g and easy to install on your drone.
We decase the used GoPro HERO 6 camera and assemble it one by one. The firmware is changed to 1.6 version and the default mode is in record 2.7K@60fps NTSC 4:3, NO image stabilization on.

The BEC output voltage is 5V@2A, avoid the accident of power off which is caused by the insufficient power supply for the FC board. Also, stock buttons and LED are integrated.

With the pluggable connector, which is easier to connect with your flight controller for power supply and recording.
Packed with the GoPro Lite BEC Board, carbon fiber board and 3D printing parts, easier installation and better to protect your GoPro motherboard.
Specification
Item: GoPro Lite Camera
Weight: 29.32g
Output: 5V@2A
Voltage: 2-4S
Connector: GH 1.25 3P Connector
The default configuration in the GoPro Lite:
GoPro version 1.6
In record mode with 2.7K@60fps
NTSC with 4:3
WIFI is on. Image Stabilition is off
English language
Diagram
Under normal operation, plug the GH1.25 connector into the GoPro Lite camera firstly, then connect with the battery. The LED will flash once, then you should press the Power / Mode button once in a second to power on. The LED on the BEC board has the same status as the stock LED on the GoPro mainboard.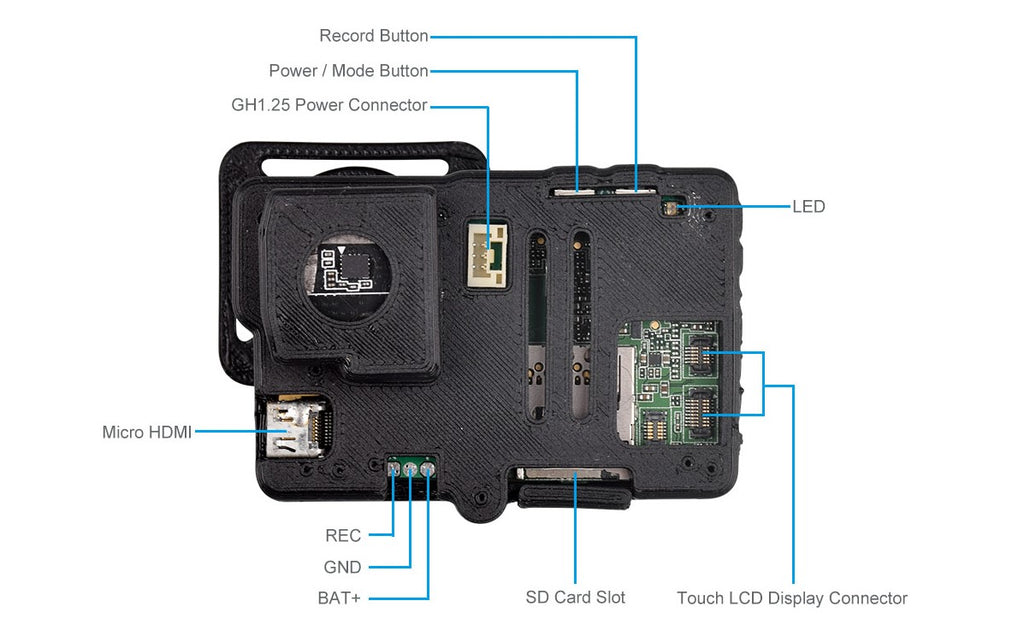 Package
1 * GoPro Lite Camera
1 * GH1.25 Power Cable (80mm 30AWG)
1 * Pack of Screws
1 * Back LCD screen for first WIFI connection