Beschreibung
Want to experience the efficiency, long range and low latency of the ELRS protocol without purchasing a new radio? RadioMaster has you covered!
Featuring up to 1W output, F-1000Hz refresh rates and a high-efficiency cooling system, the Ranger Micro 2.4GHz ELRS Module represents the cutting edge in ELRS technology. Attach the module to a compatible radio (TX16S, TX16S MkII, TX12, TX12 MkII and more) to enjoy all that ELRS has to offer.
The included T-shape antenna is designed for maximum signal coverage. An optional MOXON antenna is available for directional applications.
Features
High-efficiency cooling system

Up to 1Watt Power output

Wifi and Bluetooth support

Packet rates up to F-1000Hz

T-antenna included

With the Micro connector, support TX16S MKII and TX12 MKII radio
Specification
Item: Ranger Micro Module

Regulatory Domain: ISM2400

MCU: ESP32(main), ESP8285(aux,as ESP backpack)

RF chip: SX1281IMLTRT

Frequency Range: 2400 MHz – 2480 MHz

Maximum packet rate: 500Hz/F-1000Hz (F-1000Hz mode requires EgdeTX 2.7.1 or later)

Minimum receiver refresh rate: 25Hz

RF Output Power: 30dBm for FCC, 20dBm for CE (Adjustable by LUA)

Wifi Support: Yes

Bluetooth support: Yes

XT30 Power supply voltage: DC 6V – 16.8V

Weight:  50g (with antenna) / 40.5g (without antenna)

Dimension: 136*49*33mm (with T antenna) / 74*49*33mm (without antenna)
Size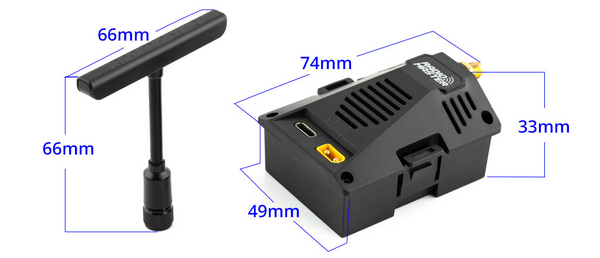 Ranger Series
We wish to thank the ExpressLRS team for their support and testing during the development of the Ranger series. To learn more and support the ExpressLRS project visit https://www.expresslrs.org/
How to Replace Ranger Micro Board
Package Includes
1 * Ranger Micro Module

1 * T Antenna
Need receivers too? Purchase the Ranger Micro Combo, which includes the following items:
Nicht für schweizer Kunden.